It is with a very sad, and heavy heart, that I have had to say goodbye to my daughter, Maggy, who gave us over 10 years of excitement, joy, love, and everything you could ever expect from an amazing and beautiful soul.
Last week after having a blood transfusion, around 2pm, Maggy went into cardiac arrest, and unfortunately did not recover.
You will forever be my baby girl. Me, your mother, and brother miss you so much, and words could never express how much joy and love you brought into our lives. The day I lost you was the worst day of my life, losing a child is never easy, I keep waking up hoping this is all a dream, but I know that you're in a better place now, swimming, chasing lizards, eating pizza, and now it's time for daddy to reflect on all the good times we had instead of being sad when it all had to come to an end.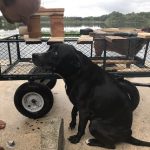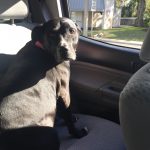 Remembering the good times, traveling up and down Florida with daddy in his truck while he worked, feasting on pizza, swimming in hotel pools … going for car rides and showing your brother how to feel the wind in your face, hanging at the dog park, the beach …. and who could ever forget sitting outside on the back deck … watching the sunsets … or daddy while he worked on building you a food bowl holder … or my favorite, you resting your face on mine … so we could both express our love for each other without words.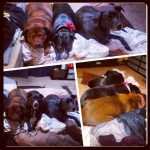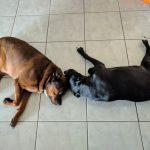 There are so many people, and dogs who will love you forever, including your brother and friends. You were such an amazing sister to your brother, always by his side, showing him the ropes and even showing him love when you thought nobody was looking. You made your brother the man he is today, and I know he misses you just as much as we do.
I will never forget that drooling face waiting for your piece of the pizza, or the look you knew would melt both me and your mothers heart and give you anything you want.
I guess my way of dealign with this loss is to talk about it, to remember the good times, but it still hurts, and for the first few days I couldn't do anything … even eating was a common task that became difficult for me.
Life will never be the same without you, and even though I may not know how to move on right now, I know you will give us the strength to make it through, in your memory, our daughter, my first true love, I love you more than you know, please watch over your brother as you always have, keep him strong like you will for us, I will love you forever and always … in my heart … 
<3 your daddy