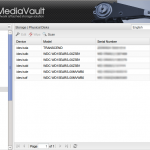 So i've been slowly building my home media server for a while now, testing out different distros, different NAS software, and I have finally come to the software I will be using from now on.  Originally I started with Ubuntu, then moved on to FreeNAS, then Unraid, and finally Open Media Vault.  My main concern was having a media center server that could be used as a NAS (or something similar), but still have the ability to add software to run on it such as Sickbeard, Couchpotato, etc.  That's when I found Open Media Vault …
Setting up a media center server can be tricky, especially with all the options out there.  One of the main things I wanted to try and use was the ZFS filesystem, which would allow me to use different size hard drives while still being able to have some type of redundancy if a drive were to fail.  Unfortunately ZFS is not supported on Open Media Vault, but even with it missing that functionality, everything else about OMV made up for it.  But before I start to go on and on about why I love OMV, let me go over why I didn't choose any of the others…
Why OpenMediaVault over others
So as I mentioned above I tried using FreeNAS, Unraid, and a couple others out there…but none of them really did it for me.  FreeNAS is nice, it works, but seems to be lacking some of the features I needed or would need, and would be a little more complicated to hack apart and play with.  Unraid is nice as well, but with Unraid once you want to upgrade to a large number of drives…you have to PAY FOR IT!
OMV was an easy choice to me after going through and testing, as it's a Debian flavored OS, meaning I can pretty much run anything I want on it, including Plex Media Server.  From what I read online OMV is actually developed by some of the old developers who were working on FreeNAS.  OMV uses PHP, Ajax, Debian, all of the things i'm already familiar with, which in the long run makes it easier on me.  Plugins have already been developed for many features you would want, such as BitTorrent, OpenVPN, SSH, TFTP, Rsync, SNMP, NFS, Samba (Windows File Sharing), MySQL, iTunes server, FTP, all of which you can manage from a very nice Web GUI.
Plugins are actively developed and the outlook is very good that OMV will be maintained for years to come.  Setting up hard drives in a RAID5 array was simple and easy, monitoring them with SMART, and using LVM very easy as well.  Updates can be completed directly from the Web GUI, it's the next generation NAS.
Couple things to note, OMV will lock whatever hard drive you install it on, so from the Web GUI you can't install or save anything to that drive.  Keep this is mind.
Most deb files will install without any problems, only problem I had was with the Plex Media Server init script, which I posted a copy on my GitHub if you need it:
https://github.com/tripflex/plexmediaserver-init
If you're contenmplating what to use for a NAS/Media Server, look no futher, Open Media Vault for the win!