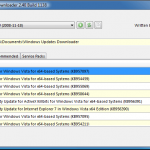 So just recently I was working remotely on some client's workstations and had a bunch of problems with Windows XP updates. Turns out Microsoft made it where Windows XP SP2 is no longer compatible with Windows Update! Of course Microsoft couldn't give you a link right on the Windows Update page saying download this file, but that's what this post is for. In order to get Windows Updates working again you have two options. First option is to download the patch file from Microsoft, which is available for both x86 and x64.
Windows XP x86 Windows Update Patch
Windows XP x64 Windows Update Patch
You can also use Windows Updates Downloader (WUD) from this website:
http://www.windowsupdatesdownloader.com
Windows Updates Downloader will allow you to add update lists for whatever Windows Updates you want to download. This tool is great for installing on workstations or servers that do not have internet access.
WUD provides all the update lists you will need:
http://www.windowsupdatesdownloader.com/UpdateLists.aspx