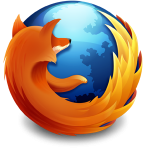 Firefox normally will open up popups just fine, after doing some tweaking to my firefox though i guess the settings got changed. I added the Chromifox style which is what i think might have changed it but i'm not sure. My issue was that firefox started opening normal popups for live chat windows in a new tab…this was not acceptable. In this quick tutorial i'm going to show you how to change it to either make firefox open popups in their normal popup windows or open them in a new tab.
First you will need to open Firefox and type in your address bar
about:config
as you can see in the image on the right.
This will prompt you with a warning, accept and proceed from there. Once you get past that part there will be a lot of listings, where it says filter type in browser.link
You will see two options available, the one we want is
browser.link.open_newwindow
as you can see in the screenshot, it is the one i have highlighted.
Right click on the property and select Modify
To make popups open in a new tab, change the value to 3
To make popups open normally like they should, change the value to 2 or 1
Using 2 worked perfect for me, try it out and see if it works for you. Hope this helps as i was very annoyed with popups not opening correctly!
This was testing and working on Mozilla Firefox 3.6.10