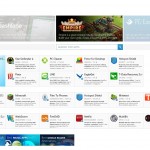 As you can probably tell from this blog i'm definitely in love with Linux, but unfortunately that doesn't mean I can use it exclusively.  On one of my laptops I run Windows 8 as a daily driver, and don't have too many complaints (like Vista buaha what a joke), but just the other day I found Allmyapps and it has made my Windows experience just a little bit better.  The gripe I always had with Windows was there wasn't any real repositories, or "app stores" to manage your apps … it was up to the application to tell you when an update was available, but if you didn't run that app, chances are you would know how outdated it really is.  Well thanks to Allmyapps that is a thing of the past…and this review is definitely not a sales pitch I can promise you that.
The best part of Allmyapps is by far the ability to update all of your applications directly from one interface, without having to visit websites, run installer files, nothing.  Just click on update and watch it go.   Allmyapps comes with a very nice Windows 8 metro style UI, and best of all, it's completely free!  As you can see in the screenshot on the right, all of my apps are listed automatically, and what do you know, there's an update for VLC and I wasn't even aware of it!
There is also a nice looking notification that comes with Allmyapps that shows you when updates are available, the status of a current update, and more!
Or you can view the status of the current update directly from the software:
Last but not least, is the App Store that is included with Allmyapps. Not only does this have almost every app you can think of, it is also a GREAT way to explore and find new apps for Windows you didn't even know existed! No longer do you have to search around on Google looking for something that "may" be what you want … search or browse Allmyapps and you're bound to find something useful and interesting. As an example, one neat app I found that I probably would have never known about was F.Lux. This app will automatically adjust the color and brightness of your screen based upon whether it's day or night…very cool if you spend almost all day staring at a computer screen! The free version of Allmyapps is fully functional but does include an Ad in the software…but for only around 10 bucks I couldn't purchase it quick enough, even if only to support the developers. I mean come on, you could spend more than that at McDonalds and then decide your not hungry anymore.
It's well worth it, and receives the SMYLES stamp of approval!
So what are you waiting for, go download it for FREE!