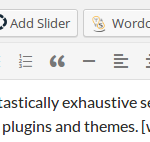 I released a new plugin today to make it very easy to display badges from Wordcamp Miami on your website.  The plugin is very simple and you can display using either a Widget or Shortcode 
With Wordcamp Miami coming up very soon I probably should have released this sooner, but to be honest I didn't even know there were badges available until I looked at the site today.
Right now it's fairly simple, you can select the badge you want to display, and the alignment you want to use.  I eventually would like to include ribbons, sticky footers, etc, but that can be for next year 😉
Shortcode Button
You can insert the shortcode anywhere you would like, and it comes with a very clean and nice UI to configure the settings:
Shortcode Configuration Preview
But what if you don't want to use a shortcode?  Oh don't worry, you can use a widget instead!
Widget Preview
So what are you waiting on, head over to GitHub or your WordPress installation and install the plugin!